Advanced Point of Sales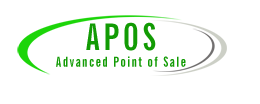 Advanced Point of Sales (APOS) has been designed and developed for the retail industry. APOS is made up of a number of modules, each module is designed to provide specific functionality for the various types of retail situations. Modules may be purchased separately in accordance with individual business requirements.
As APOS is 100% developed in Ireland, our dedicated in-house programming team can amend the software to best suit your individual needs. Various different versions of APOS have been developed to suit different retail environments, such as carpet & furniture stores, DVD rental, tanning salons, etc.
APOS integrates directly with Advanced Business Manager